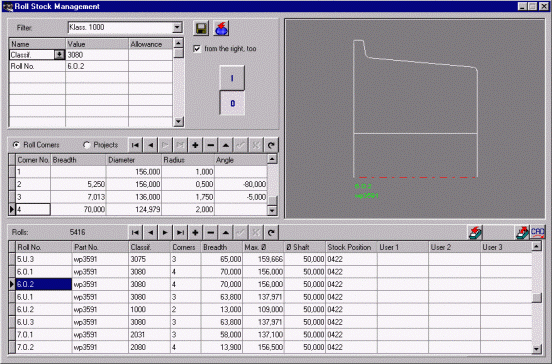 The designer of cold roll-formed profiles may re-use rolls from older projects for reducing the cost. To find suited rolls for his project, he needs the roll stock management.
Features:

Database format SQL 64bit.
Roll database window, each line represents one roll (bottom window). The matching drawing of the roll is quickly generated and displayed while browsing through the database (top right window).
Associated corners of a roll (left window in the middle). Only the corners of the selected roll are displayed. The window can be switched to a list of the associated projects in which a roll is used.
Any filters can be defined, named, saved and reloaded by the user for selecting the desired rolls (top left window).
Transfer of the selected roll to and from the profile project using the clipboard.
Transfer of the selected roll directly to CAD.
Quick input of the dimensions of rolls by hand directly into the database windows. The drawing is immediately refreshed to check the correct input.